The Abel Prize – International Prize of Mathematics – Awarded yearly
The Abel Prize is named after Niels Henrik Abel, Norway's greatest mathematician throughout the times. Abel left lasting marks on the mathematical world. His mathematics have served as a base for a number of major technological breakthroughs, there amongst the development of the internet. The Abel Prize was established by the Norwegian Parliament (The Storting) in 2002, on the occasion the 200-year anniversary of his birth.
See also:
The Prize is 7,5 million Norwegian Kroner
The Prize is awarded by The Norwegian Academy of Science and Letters, on behalf of the Ministry of Education
The Abel Committee, consisting of five leading mathematicians from throughout the world, holds the task of appraising nominated candidates and recommend a worthy winner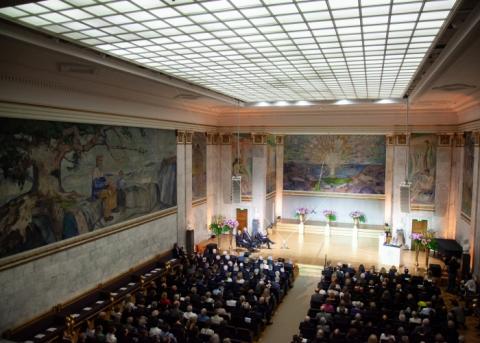 Inspiring mathematical interest in children and youth
The Abel Prize supports a number of measures directed towards stimulating the interest in mathematics amongst children and youths. Amongst these mathematics competitions for children and teenagers, and a mathematics teacher prize.